About the Workshop
Young innovators from Eureka Tech Academy are displaying their innovative tech-projects and the process that they went through to reach the final working prototype. Eureka Tech Academy aims to show children that it is possible to be an innovator even from a young age. The workshop is facilitated by Emad AlOmari, a mechatronics engineer who works as a senior trainer at Eureka Tech Academy.
---
About Eureka Tech Academy
Eureka Tech Academy is the first tech academy specialized in technological and engineering education for kids (6-16 years old) in the Arab World. Eureka's vision is to prepare an innovative Arab generation who can produce technology instead of just being merely consumers for technology, and to develop the brain capabilities for kids through teaching technology in innovative, fun ways. 
---
About the Mobile MakerSpace
Amman Design Week 2017's Mobile MakerSpace travels across Jordan, engaging public school students in workshops, pop-up events and demonstration sessions revolving around crafts and making, environmental sustainability, digital fabrication and robotics.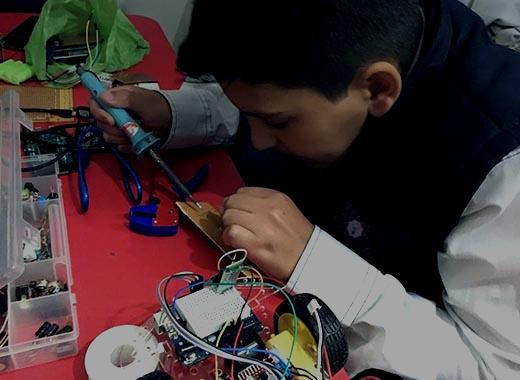 Eureka Tech Academy