Visit the workshop space at Amman Design Week to browse the submitted entries for the Urban Park Design Competition.
Continuing on the recent development of the 7Hills Skatepark led by Mohammed Zakaria at the Samir Al Rifai Park, ADW partnered with Zakaria and GAM to run a competition to propose ideas to continue the work on remaining areas of the park.
Designers residing in Jordan were encouraged to submit their research and ideas on how the park can be extended to include further facilities and play areas that promote a growing sense of community and an active lifestyle. The main challenge of the competition was to transform a public space into an engaging social area taking into consideration the needs of the surrounding community.
The public park selected – the Samir Al Rifai Park – is located on Prince Mohammad Street, next to the Samir Al Rifai School. The public park is 4,900sq. meters in size – including the skatepark, which is 650sq. meters – located on the side of the hill going up to Jabal Al Lweibdeh and is easily accessible from the east and west of Amman.
A jury of architects and city representatives, including Lara Zureikat, Mohammed Zakaria, Eng. Nemeh Katanani, Eng. Seham Ahmad Ali Al Hdidi and Eng. Leen Fakhoury, will announce the selected winner who will be awarded an honorarium of 5,000 JOD, sponsored by Bank al Etihad at their talk at Amman Design Week.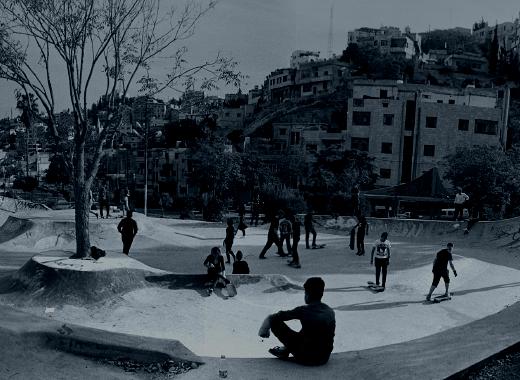 7Hills Skatepark