About the Workshop
The "Lightweaver" workshop is part of the "Design for a Nomadic World" exhibition, which explores how art, architecture and design can address the emotional, cultural and aesthetic needs of refugees, while fostering a better cross-cultural understanding and a social cohesion between migrant and host communities. The workshop will involve the co-creation of the Lightweaver project, a playful kinetic lighting machine and educational device that was developed in collaboration with the artists, engineers and inventors from the Al Azraq refugee camp. The Lightweaver translates stories from textiles and calligraphy into a sensory play of light, aiming to preserve cultural memory and inspire hope.
Lightweaver is designed as a kinetic sculpture employing light and a DIY pinwheel-driven machine to animate textile motifs. This three-dimensional light-weaving machine can be used to personalize the interior and exterior spaces of the refugee camp shelters through the functional and poetic use of lighting technologies, textile patterns and calligraphy. The project is investigating the role of art and design as a means for the sensory enrichment of the refugee shelters and as a medium to dignify stateless people within conditions of limited resources, war and trauma. Lightweaver proposes a way of rethinking the shelter beyond its functionality as physical protection. The project aims to provide immersive cultural environments within refugee camps, providing means for preservation of cultural heritage through play, knowledge exchange and sharing of stories.
The Lightweaver was conceived by Dr. Azra Aksamija and developed as a collaboration between the Future Heritage Lab – MIT Department of Architecture, with the GJU Department of Architecture, CARE Jordan and artists, engineers and inventors from the Al Azraq camp. It showcases studies of everyday-life problems and inventions of the Al Azraq refugee camp investigated by students of the two universities.
The workshop builds on the previous collaborative work prototyped by teams from MIT, GJU, IRA, and Al Azraq camp. The collaboration with Al Azraq camp residents is facilitated by CARE - Jordan. Prototypes created in the ADW workshops will be added to the exhibition "Designs for a Nomadic World."
Sponsored by MIT Future Heritage Lab; MIT CAST Mellon Faculty Grant; MISTI-Arab World Program; GJU Department of Architecture; CARE Jordan.
---
About Dr. Azra Akšamija
Dr. Azra Akšamija is an artist and architectural historian, an Associate Professor at the MIT Program in Art, Culture and Technology and Director of the MIT Future Heritage Lab. Akšamija's work investigates transcultural aesthetics, cultural mobility, and ways in which art and architecture can form a bridge between cultures. Her book, Mosque Manifesto, published 2015 by Revolver Publishing, offers a repertoire of ways in which creative forms of Islamic representation may foster a better understanding between cultures, and provide a critical response to stereotypes about Islam in the West. Akšamija holds Master's Degrees from the Technical University Graz and Princeton University, and a PhD from MIT (HTC / AKPIA). Her work has been shown in leading international venues. She received the Aga Khan Award for Architecture in 2013 for her design of the prayer space interior in the Islamic Cemetery Altach, Austria.
About Dr. Mohammed Yaghan
Dr. Mohammed Yaghan has a BSc from Jordan University, an MSc from the University of Strathclyde, and a PhD from the University of Tsukuba. Accordingly, he was exposed to different systems of thought and induction. His research focused on computerization of Islamic architectural elements, namely; muqarnas, two dimensional geometrical patterns, calligraphy, and Arabic typography. His vision is to create very new applications that match our contemporary era needs utilizing the logic of the form rather than replicating a copy from the past. He co-founded a design house called "Muqarnas for Design" in 2007. This design house has accomplished over forty design projects of different scales. In teaching, he strives to get the best out of every student by helping him to devise his own approach of learning rather than imposing a model of teaching.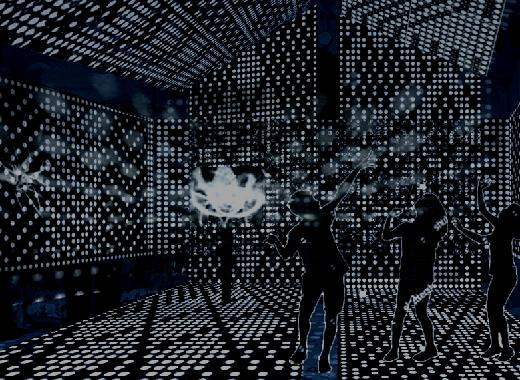 Dr. Azra Akšamija and Dr. Mohammed Yaghan
Venue
German-Jordanian University (GJU), School of Architecture and Built Environment