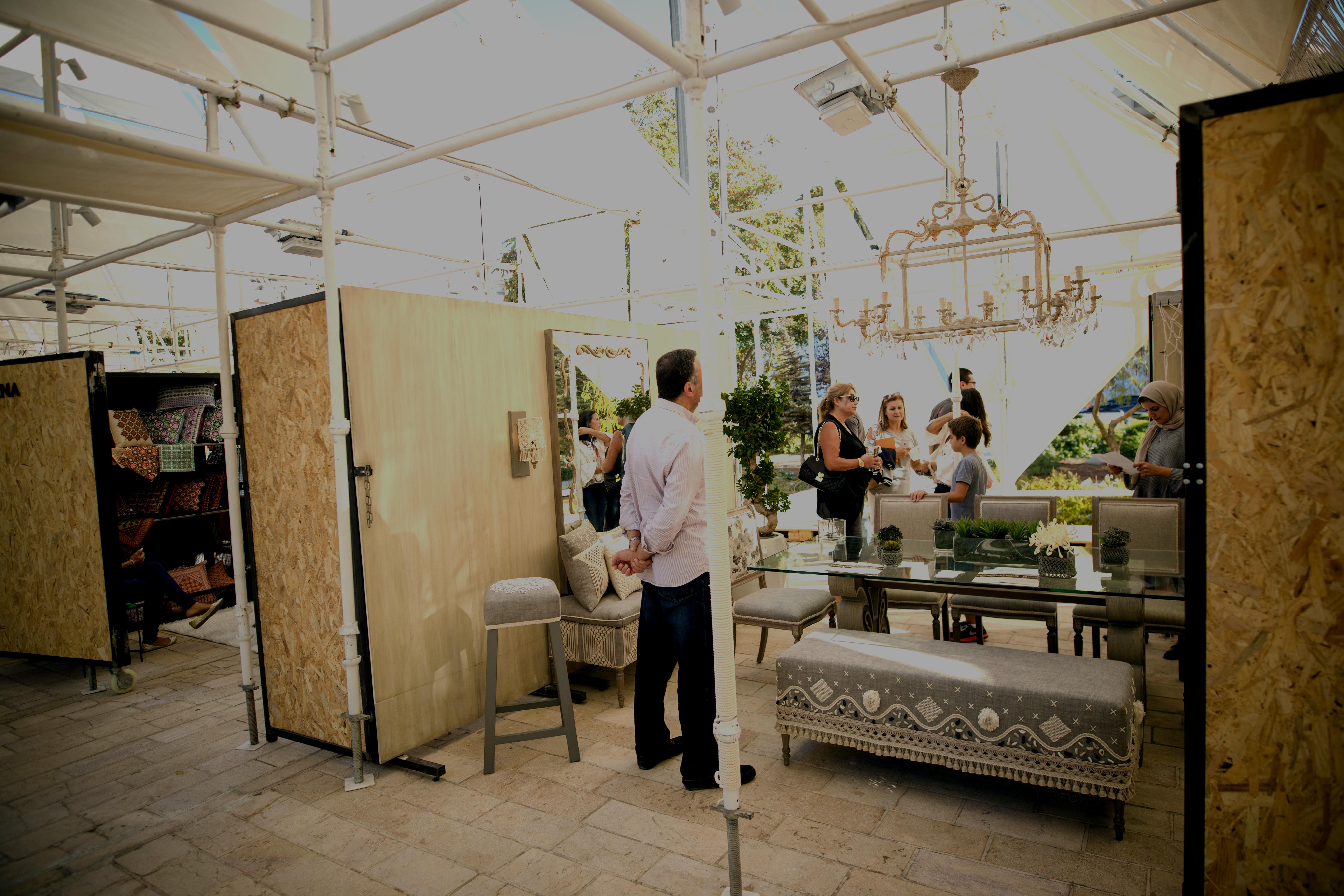 Kama Local Gourmet
The Crafts District this year features a variety of pop-up shops displaying an array of various craft work, designs, and products. Located within an open-air structure designed by architect Dina Haddadin, the crafts shops will be open from 10 am to 10 pm throughout 6 - 14 October.
Ayadeena
The name Ayadeena is a tribute to the women who skillfully create beautiful hand embroidered products. They are skilled, patient, and ambitious women who are unable to leave their homes to work, either due to their tasks as mothers and homemakers, or because of the traditional view that women are not allowed to work outside their homes. Part of the income generated by Ayadeena will be dedicated to ensuring the empowerment of these women through tools and knowledge to help them succeed in life as well as within the company. Ayadeena will be showcasing and selling these products during ADW. 

---
Heba's Closet 
Visit Heba's closet during ADW for a local touch and trendy addition to your wardrobe, made solely by Middle Eastern designers. 
Website: hebas-closet.com 
Facebook: Heba's Closet 
Instagram: @hebas_closet
---
Iraq El Amir
The Iraq al Amir Women Cooperative Society began as an initiative by the Noor Al-Hussein Foundation in 1993 to empower women and preserve local heritage through the development of sellable handcrafted items. In 2015, Lina Asfour Kanafani, Founder of Mint, the design gallery based in London, invited Studio Gutedort (Germany) to hold a series of workshops for the Cooperative to develop new products within their existing lines that were design and environmentally friendly and financially sustainable. The efforts of these workshops resulted in unique paper bowls made from recycled paper and natural dyes, hand woven and naturally dyed fabric, and ceramic items, which will be available for sale at ADW. This pop-up shop is supported by Shams.
---
Appliqué
From Appliqué's love of textiles, cushions and throws, to their flair for mixing colors, patterns and fabrics, they ensure high-quality, unique products ranging from locally produced furniture to handmade crafts and accessories. Appliqué employs highly skilled crafters to locally produce merchandise you will be proud to showcase in your home.

---
Zawayed
Zawayed is a community empowerment organization that hosts workshops for youth and women in local marginalized societies across Amman to discover their creative potential by creating sustainable design products from low-value industrial and corporate surplus materials. The designs are created through harnessing the skills of small-scale workers, skilled women and traditional artisans to create effective products that are made sustainably with love and care.

---
Jordan River Foundation
The Jordan River Foundation is a Jordanian non-profit, non-governmental organization established in 1995 and chaired by Her Majesty Queen Rania Al Abdullah. The Foundation's vision is to reach a Jordan where solutions are homegrown, where the opportunity  to prosper is for all, and where the wellbeing of our children shapes our future. During ADW, they will have traditional handicrafts made by local women on offer at their shop. 
---
Kama Local Gourmet
Kama Local Gourmet launched in late 2013 with the mission to build a premium universal brand. Kama is dedicated to sourcing, packaging and promoting the finest Jordanian and Middle Eastern specialty foods The word 'kama' means 'desert truffles', an Arabian delicacy. Kama Local Gourmet will be offering jams, labneh, za'atar, and other delicious treats for sale at their shop.
Header Image