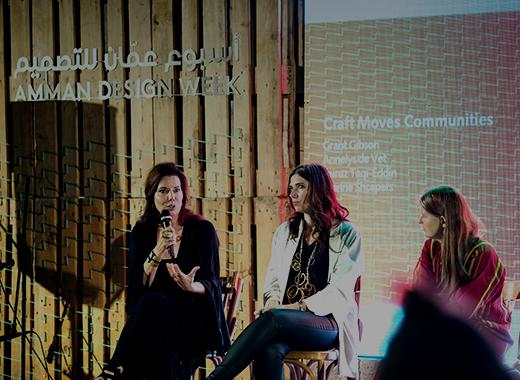 Header Image

Each year, Amman Design Week hosts a variety of talks and discussions. Local and international speakers and designers are invited to cover different current topics related to design in the region and in the world, where they are connected and discuss designers' work and ideas, as well as address issues of design practice, process, theory, management and technique. These are the talks that were on during Amman Design Week 2017.
Ethical is the New Black: Fashion Moving in a New Direction
Caterina Filice in collaboration with Design Institute
The concept of sustainability is taking greater significance in today's society. Consumers are increasingly responsible, laws are becoming stricter, and resources are becoming rarer and more expensive. Without a doubt, there is a lot to be done and said regarding sustainability in the fashion world, which affects every stage of the product's life cycle. A holistic view on sustainability is key to understanding the future of fashion, and to thus be able to produce fashion with a future.
Bilingualism in Visual Communication
Discussion Panel; Dr. Esam Abu Awad, Dr. Huda Smitshuijzen AbiFarès , Omar Al Zobi and Sinan Sweiss
Bilingualism in visual communication is becoming an imperative approach in design praxis. The panel showcases an amalgam of historical accounts, concepts and design practices in pairing the Arabic and Latin scripts typography and graphic design.
Computational Geometry across Practice, Academia and Research
Kais Al Rawi
Kais Al Rawi shared insights into articulated geometries and computational design processes within three contexts: practice, academia and research.
Craft Moves Communities
Grant Gibson, Annelys de Vet, Fairus Taqi-Eddin and Dianne Scheppers
How can the act of making help promote economic growth, bring communities closer together, and overcome a variety of social issues? In this panel discussion, chaired by the editor of Crafts magazine, Grant Gibson, speakers from Disarming Design from Palestine, The Jordan River Foundation, the Princess Taghrid Foundation explained how craft is capable of making a difference, highlighting the power of collaboration and sustainable programs in craft.
Moving Design: From Luxury to Necessity
Ahmad Humeid and Dina Haddadin
This talk joined Ahmad Humeid, curator of the 2017 Hangar Exhibition with Dina Haddadin, the exhibition designer and curator of the 2016 Crafts District in a discussion on the status of design in Jordan.
Placemaking: Reimagining Public Space in Amman
Ayman Zuaiter, Leen Fakhoury, Mohammad Zakaria and Nemeh Qatanani
As part of Amman Design Week's efforts in engaging designers with the urban environment and using our platform to create conversations about derelict or abandoned spaces in the city, Amman Design Week invited leaders in urban design and activism to a panel discussion where the winner of the urban park competition was also announced. Speakers included Ayman Zuaiter, architect of the abandoned Raghadan Tourist Terminal, urban design educator Leen Fakhoury, design activist and founder of the 7hills skatepark Mohammad Zakaria, and Nemeh Qatanani, an urban designer from the Greater Amman Municipality.
Jordanian Animation Design
Mahmoud Hindawi, Dr. Tariq Rimawi, Sandra Dajani and Saif Al Atrash
Four Jordanian animation designers and educators showcased their work and process in a quick-paced, pecha kucha style presentation, and discussed how motion graphics can be used as a tool for communication, expression, and as a new medium for giving a voice to youth in Jordan.
Making Almost Natural Things
Faysal Tabbarah
The talk discussed an ongoing agenda, "Almost Natural", through situating it as a critique towards ongoing green building practices and how a blurring between the natural and synthetic offers an alternative attitude towards building and construction in the Anthropocene.
CLUSTER Mapping Initiative: Cairo and Amman
Beth Elyse Stryker, Omar Nagati and Ali As'ad
In this presentation, CLUSTER presented their mapping initiative platforms and projects that map and archive the changing political and urban landscape in Cairo, and offered a preview of their collaborative mapping projects in Amman, done in collaboration with Studio-X Amman and Columbia University's Center for Spatial Research.
The Aga Khan Awards: Six Interviews with Jordanian Architects
Farrokh Derakhshani, Dr. Mohammad Al-Asad and Ahmad Humeid
The 15 minute film consists of six interviews with Jordanian architects, each of whom discussed one of the winning projects for the 2016 (13th) Cycle of the Aga Khan Award for Architecture. The film screening was followed by a conversation between Farrokh Derakhshani, the Director of the Aga Khan Award for Architecture (Geneva); Mohammad al-Asad, the Founding Director of the Center for the Study of the Built Environment in Amman (CSBE) and a member of the Steering Committee for the 2016 cycle of the Aga Khan Award for Architecture; and Ahmad Humeid, founder and CEO of Syntax Digital.