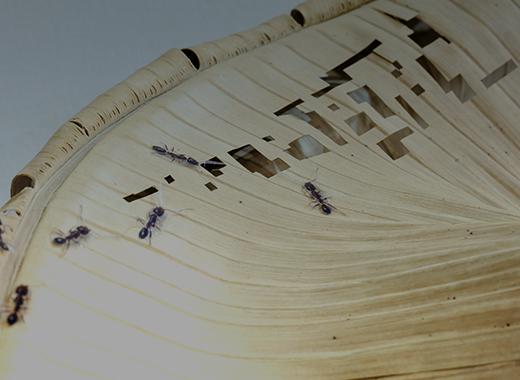 Header Image

---
With the theme of movement in mind, and aiming to solve and raise awareness about specific real-life issues, these students highlight how design can be culturally and socially conscious. 
---
The following students were mentored by Dina Fawakhiri.

Unnatural Nature: The Unfortunate Black Iris
Sama Zou'bi
King's Academy
Sama designed a replica of Jordan's national flower, the Black Iris, out of black plastic waste bags. Her project represents the severity of the societal and environmental littering and pollution problems in Jordan.
---
Heritage Traces
Lubna Al-Mousa, Shaker Nsour
University of Jordan
These jewelry designs were inspired from traditional, physical movements in Jordanian culture and heritage. Using local materials, each necklace tells a story about how our ancestors lived. The materials used in the designs correspond to the inspiration behind each necklace.
Taboon
Made from basalt and silver, this necklace recreates the movement found in traditional bread making using the "Taboon" ovens made from volcanic rocks. 
Mehbash
Made from wood and silver, this necklace symbolizes the movement and hospitality associated with the old Bedouin coffee grinder – referred to as "Mehbash".
Laban

This necklace is made with leather and silver, mimicking the movement of making yogurt using goat's milk.
---
Play Therapy Puppet
Lena Hussein
German Jordanian University
Lena created a "Play Therapy" puppet that helps children express how they feel internally (such as chest pains, breathing difficulties, heart attack symptoms, low energy, heart pounding, hyperventilation, sore muscles, etc) which will aid child therapists in identifying and treating anxiety in children.
Production: Hanadi Khurma, Costume designer / technician

Consultation: Sirsa Qursha, Child development and parenting specialist
---
The following students, mentored by Nada Jaffal, observed problems or obstacles in their environments and designed solutions.
ErgoEgg
Leen Khasawneh
International Academy of Amman
Leen designed and created a 3D printed ergonomic writing tool to serve as a communication aid for children with cerebral palsy, allowing the insertion of a pen or pencil. The aim of the product is to be the first locally available product tailored to children with cerebral palsy, and to be one of the few effective cerebral palsy products worldwide.
---
MUSHI
Kareem Khalil
International Academy of Amman
Kareem developed a design solution for parents who struggle with feeding their infants or toddlers (6 - 24 months old). MUSHI aims to provide users with a handheld tool that acts as a manual on-the-go food grinder and feeder.
---
Strap'D
Azd Billeh
International Academy of Amman
Concerned about the quality of life of pregnant dogs, Azd designed a wearable strap which addresses the issue of miscarriage with pregnant dogs by providing a solution for their discomfort and pain. By integrating the principles of compression and tension forces, the strap helps dogs relieve the weight they are carrying on their backs during pregnancy.
The bottom of the design, to be worn around the dog's stomach, features gel-padding to increase the dog's' sense of comfort, and lycra for elasticity, decreasing the dog's stress and anxiety levels during pregnancy. The design then wraps around the dog with an adjustable velcro buckle, which allows for adjustability during application, and can fit a variety of sizes. The leg and arm openings are made from elastic, in order to achieve balanced weight distribution throughout pregnancy.
---
Mentored by Ammar Khammash, Riyad Hilal developed a project that explores insect behavior and possible intersections with design.
Can insects be the micro-robots of the future?
Riyad Hilal
University of Jordan
This project aims to explore ways of changing the behavior of insects to carry out tasks they have never done before, and to execute intricately detailed designs based on human instruction.