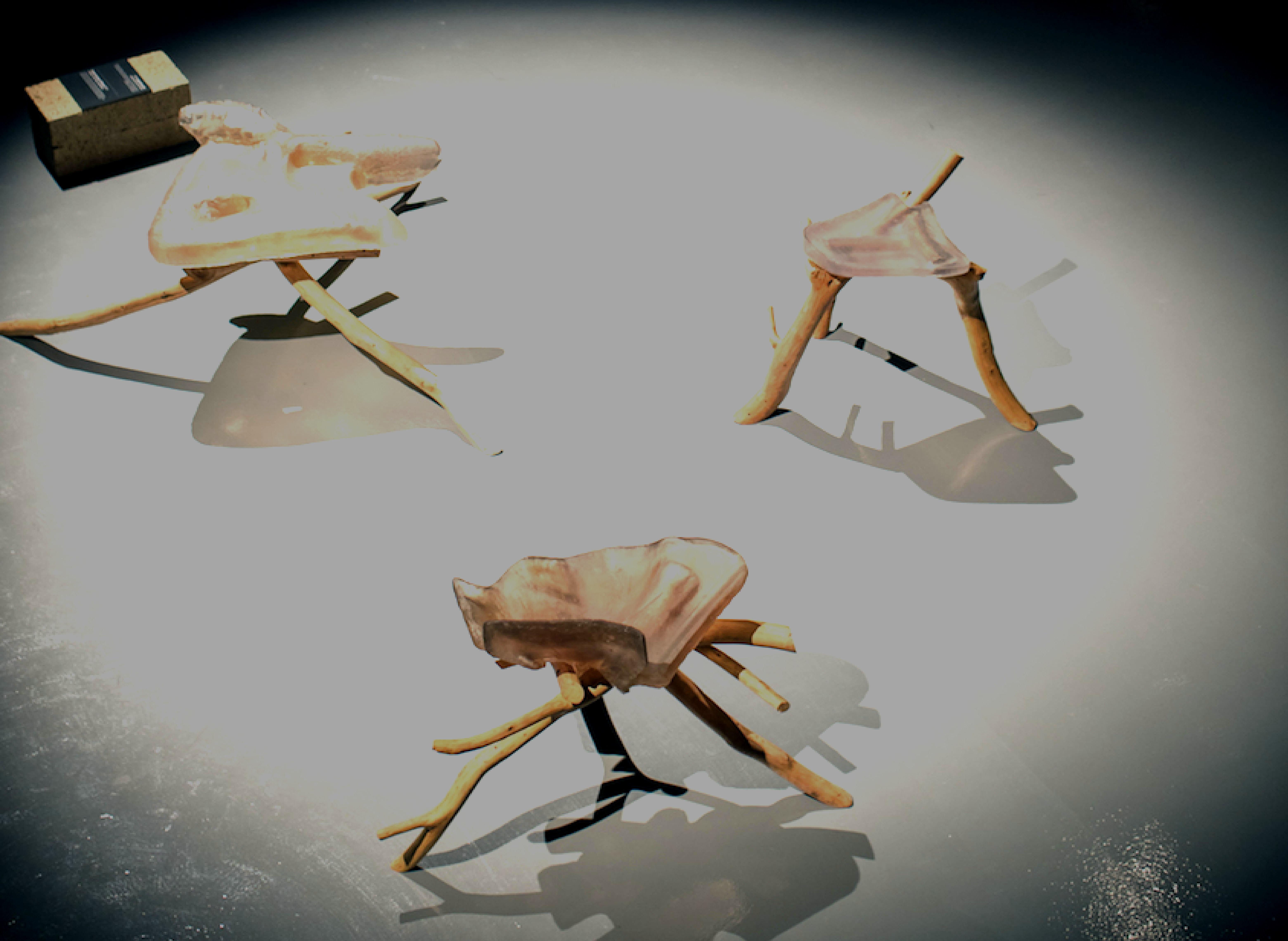 Header Image

The material world that surrounds us is consciously or unconsciously designed. Sometimes this is done well, but often it is not. Many designers choose to explore the materials work and design with, understanding the importance of both aesthetically experimenting and developing an approach with materials that are environmentally mindful.
For ADW2017, Architecture + Other Things collaborated with two designers; Ibrahim Ibrahim and Yasmeen Hamouda. 'Painterly Structures', designed by Architecture + Other Things and designer Ibrahim Ibrahim, presents an alternative mode of sustainable design practices through the use of found organic material. Fallen timber members are integrated into a digital and analogue making process that creates functional objects and structures.
Their second piece on display, entitled 'Table 1', designed in tandem with architect and illustrator Yasmeen Hamouda,  explores the role of the human capacity to impact climate change, and how the production and aesthetics of architecture and design have evolved as a result. The project seeks to uncover a novel and obscure relationship between natural and synthetic things while questioning normative, problematic and currently highly commercialized ideas of sustainable design production.

'Table 1' also responds to the discussion of moving between extremes by the breakdown of contrived binaries of nature and technology, which have long been perceived as extremes. The work explores the potential of nonlinear fabrication processes through a juxtaposition of precise manufacturing techniques such as cutting and gluing, with nonlinear casting operations.
The materials used, namely recycled rubber tires (crumb rubber), which is locally recycled in Sharjah, along with transparent epoxy resin, is a commentary on moving beyond pattern towards the juxtaposition of deep texture and transparency.
The project also seeks to critique a culture of thinness in design in favor of mass and heaviness, while responding to the Amman Design Week theme of 'Movement' through positioning thinness in design as a byproduct of commercial movement of goods and products.

On 8 October, Faysal Tabbarah,  Co-founder of Architecture + Other Things, will also be giving a talk titled 'Making Almost Natural Things'  to discuss an ongoing agenda, 'Almost Natural', through situating it as a critique towards ongoing green building practices and how a blurring between the natural and synthetic offers an alternative attitude towards building and construction in the Anthropocene.

Architecture + Other Things is a collaborative and interdisciplinary platform exploring alternative models of architectural practice and design. Approaching design as a holistic condition, Architecture + Other Things deploys technology to produce work at multiple scales and within multiple disciplines that reflect novel solutions in the design and production of architecture and all other things.