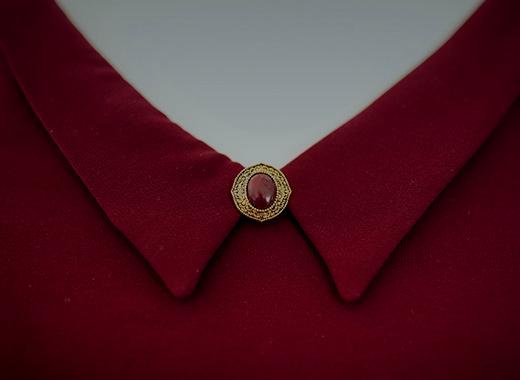 Header Image

This year, Amman Design Week is shedding the light on many talented university and school students. Working under the mentorship of fashion designer Edelina Joyce Issa, each of these pieces has its own unique story, inspired by themes like nostalgia, nature and women's empowerment.
Hala Hammad - University of Jordan
Hala Hammad's design is inspired by her grandmother's memory of a dress she once loved and lost. Working with only her grandmother's description of the dress and its details, Hala created her own interpretation; a dress that pays homage to 1950s fashion while also maintaining a contemporary feel. The dress is made of a maroon-colored polyester crepe material, similar to the fabric used in fashion during those times.
Hala Al Zoubidi - University of Jordan
Hala designed three pieces that honor three Arab women whom she feels have left an imprint on the world; Her Majesty Queen Rania Al Abdullah, Zaha Hadid, and Ghada Almutairi. Each piece is symbolic, designed to represent one of the women and the mark she has left on the world. Hala used various materials and colors in her pieces, from silk chiffon to golden metal, to symbolize the distinguished attributes and achievements of these women.

Lamees Ghazallah - University of Jordan
Lamees reinterpreted 1960s bridal wear into a modern-day gown, taking inspiration from the flowers of a Jordanian Spring. Lamees incorporated these flowers and scents within her garment, while also creating a transferable scent spraying product.
Nasma Ihsan - German Jordanian University
Beginning with the concept of a corset as a starting point for her design, Nasma used ropes of various sizes and strengths instead of fabric. The design was inspired by human rights activist Nadia Murad, who was nominated for a Nobel Peace Prize in 2016 for her important role in speaking out against human trafficking, and advocating for and defending the rights of women.
The birds at the end of the ropes signify being released from chains, representing a sense of freedom.
Safia al Barghouthi - University of Jordan
Inspired by the 'Veiled Lady' Mushroom, an organism that adapts its shape to its environment and features a skirt-like veil, Safia experimented with pleats and yellow silk satin to create a transformable belt that unfolds into a pleated open-slit skirt.

Hiba Mubaideen - University of Jordan
Hiba recreated a vintage Christian Dior waistcoat with a local touch, using iconic mosaics of ancient historical sites to create a garment featuring a unique form of surface decoration.

The gilet is covered in a mosaic that replicates Madaba's map of ancient holy sites. The process of creating the gilet took over a month, as the mosaic makers had to customize each stone's cut as per Hiba's design and layer them on several pieces of fabric. The frontside of the coat features Jerusalem, Karak, Bethlehem and the Jordan River which winds to the backside. There the mosaic features the Dead Sea, Gaza on the bottom left corner, Mount Sinai in the middle, and the Sinai Peninsula on the bottom right.
Credit: Mosaic makers from Nebo's Pearl in Madaba