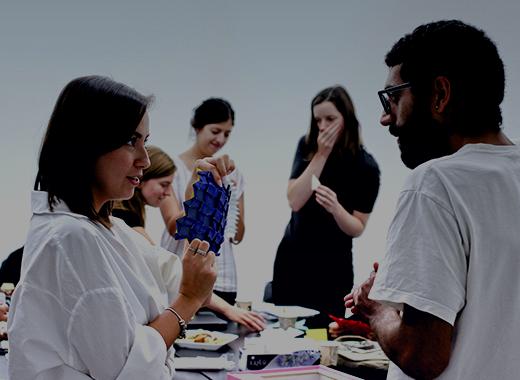 Header Image

Amman Design Week is teaming up with Disarming Design from Palestine on a collaborative learning workshop that is focused on contemporary critical product design, hosted by Darat al Funun and in collaboration with the artisans of the Gaza Refugee camp in Jerash and the design students of the Sandberg Instituut Amsterdam. 
In the first two weeks of September 2017, a group of 11 designers from Jordan, Palestine and the Netherlands will collaborate with the craftswomen and men from the camp. Together, they will develop new useful products that talk about life in the camp and the situation of Palestinian refugees. These thought-provoking goods will be taken to production and will become part of the extending collection of the inclusive design label Disarming Design from Palestine, and will be sold internationally as products that speak of Palestine's current reality through design, crafts and poetry.

Additionally, the initiative seeks to provide economic empowerment to various crafts communities, particularly women, as well as to catalyze cultural exchange and storytelling with particular reference to the Palestinian diaspora or the notion of being stranded away from home. It will be an opportunity for both the artisans as the designers to connect with their identity.
In the last six years, Disarming Design from Palestine has organized similar create-shops in the West Bank, East Jerusalem and Gaza, where each time a mixed group of artists and designers worked together with the local crafts community to develop new products from existing production methods. It is the first time Disarming Design from Palestine is in Jordan and the initiative is inspired by the exchange of ideas and perspectives, the curiosity of those involved, and the exchange that takes place through the act of making. Can design imagine a different future?
The output of the workshop will be exhibited at Darat al Funun's The Lab during Amman Design Week, alongside a broader exhibition of Disarming Design for Palestine. The products will be available for sales and the exhibition will afterwards travel further to the Nieuwe Instituut in Rotterdam (NL) and the Design Museum in Gent (B) — amongst others.

Organizing Team:
Haya Bustami (JO), Education & Community Outreach, Amman Design Week: "The human centered element of the program is what makes it special; it creates an enriching and humbling experience to everyone involved."
Rana Beiruti (JO), Co-Director, Amman Design Week, and Director of 'The Lab', Darat al Funun: "Problem-solving, enhancing communities and bringing concepts to life, design has the power to reshape the future."
Ghadeer Dajani (PS), Interior designer, production manager Disarming Design from Palestine "Art, design, crafts; they all have to be part of the resistance against the occupation, as an element within a mosaic power against foreign rule. It has to reflect the beauty and the strength of Palestine, just like poetry and literature are doing."
Reem Marji (JO), Architect, team Darat al Funun: "Design is a global language; a huge platform that contains different backgrounds and cultures, while maintaining the authenticity and identity of each one."
Annelys de Vet (NL/B), Designer, Founder of Disarming Design from Palestine, Head of Sandberg Instituut design department : "How can the act of making be used as an emancipatory tool? And how can design help to imagine a different future?"
Participating Designers:
Rand Abu al-Sha'r (JO), Architect: "As a woman in a field still largely dominated by men, I constantly strive to support any endeavors which aim to empower women. Also, as a Jordanian with a Palestinian mother who was displaced in 1967, the cultural aspect of this experience speaks to me on a personal level."
Asja Keeman (NL), Master Student Design Sandberg Instituut: "I often work with stories of and from refugees, but I have never set foot in a refugee camp or seen their everyday lives. I hope my experience in Amman will broaden my horizon."
Mohammad Ishtay (PS), Product and interior designer: "I think a great design is the one which helps people or the environment, improves it or fixes a problem and does so in a very tasteful and original way. That is always the goal of my designs and that's what I think is design for the real world."
Tessa Meeus (NL), Master Student Design Sandberg Instituut: "At this moment my perspective is based on Western media and stories, I would like to challenge my views with real life experience. The questions I ask myself are: what is this state of being like? What do people embrace? What do they hate on a daily basis? What are the values of the place and how can design play a role?"
Fida Shaffi (PS), Political scientist and designer: "We're becoming one-by-one part of a new and dynamic design movement when it comes to our collective identity, as we tried to tap into the social and political moment and cultural significance of our country at voluntary basis."
Sherida Kuffour (NL/GB/GH), Master Student Design Sandberg Instituut: "In recent years I've been interested in anti-colonial, and anti-imperialist movements and how people push back against these strongholds. I've come to realize that, as the 'colonized', regardless of race or religion, we share somewhat similar struggles of revolution and pushback."
Nour Nsheiwat (JO), Designer: "The only thing that gets me going is sharing stories. I have realized that in every corner of my life I have pursued a job that included some narrative methodology. I'm into listening to a new story told by a product. I'm eager to get to know more people and share more knowledge and passion. Nowadays, I'm teaching myself about "being" in the moment and how this can progress from narration into truthful actions."
Rebekka Fries (NL), Sandberg Instituut Design alumni: "To have the opportunity to be integrated in the situation of the citizens of the refugee camp I hope it changes disconnected worldviews I have myself. I want the opportunity to witness a reality, which isn't mine, and in collaboration on a personal, local and cultural level, participate in achieving more awareness of living circumstances, which may entail already multiple generations."
Mariam S. Shukri (JO), Designer: "The possibility of locating and identifying hidden talents in our communities and of whom simply did not get the chance in life to share their skills and abilities with the outside world. My confidence and belief in art being quite an influential tool that can be used to express and portray someone's thoughts, beliefs, causes or conflicts."
Qusai al Saify (PS), Founder Origami Palestine: "An essential part of the production process is the experience itself. Social interactivity enriches the value of the product by the involved varied knowledge backgrounds of the participated designers, artists, and handicraftsmen. This collective work is important for the quality of the product as well as the environment of the whole experience."
Aya Abu Ghazaleh (JO), Artist / designer: "I am looking forward to collaborate with different designers and industries, and working with the local camp community here in Jordan is an added value that I respect and admire."