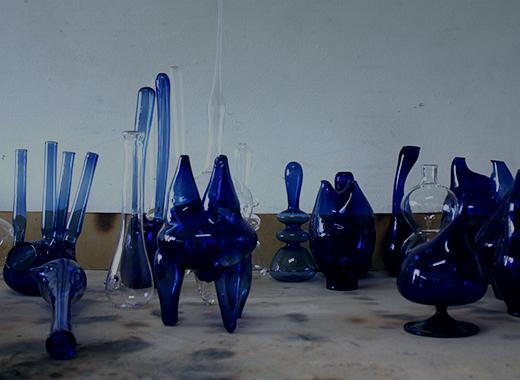 Header Image

Dima Srouji's pieces at the Hangar Exhibition during Amman Design Week 2017 bring a contemporary light to a traditional craft. Dima works with two glassblowers in Jaba', Marwan and Ali, who run a tiny glass blowing shop on the roof of their home. Dima uses digital tools and images to communicate the designs to the glassblowers. 
The aim of her pieces titled Hollow Forms is to cross boundaries, looking back to move forward, to produce objects that resonate a sense of place while maintaining the ability to act on a regional and global level. To Dima, objects are not blank, hollow shells; rather they have a power to draw people in and alter perceptions. This magical power of strange forms can be used to revive this ancient craft in the small village in Palestine.
This is not a sentimental or nostalgic project; this is an attempt to reactivate the industry and revive traditional craft while learning the ancient techniques that are used to draw inspiration from them.
Credits to supporting designers Marwan Twam and family.

---
Dima Srouji is a Palestinian architect and artist currently based in Ramallah interested in multidisciplinary design methods, and is currently working on research-based projects concerned with politics and place. She completed her Master's Degree in Architecture from Yale University and her Bachelor's Degree in Architecture with honors from Kingston University in London. Dima was born in Nazareth and grew up in Bethlehem, Jerusalem, and Doha. Since then she lived and practiced in London, New Haven, and Milan. Her interest in craft revival comes from her recent return to Palestine where she has rediscovered the value of the local industries in the historic villages of Palestine.
IG: @dimasrouji | dimasrouji.com