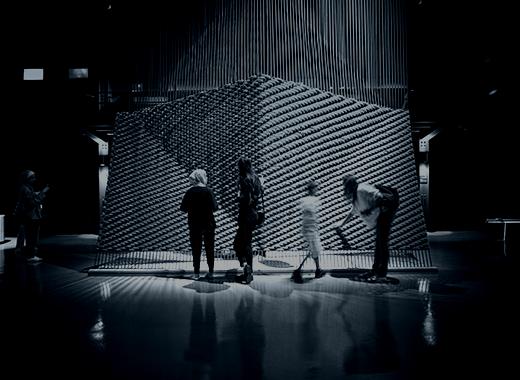 Header Image

Civilizations have passed through Wadi Rum, a famed valley of Jordan steeped in history. This installation – designed by Anmahian Winton Architects Alex Anmahian, Mazen Sakr and Aaron Bruckerhoff –  explores the idea of movement through the lens of this complex historical and geological site. By looking into the rawness in both material and idiom, of sandstone and granite striations found in the geology of the valley, the embrace/grasp that the natural space imparts on its travelers to create an inhabitable form is explored. 
By bending rebar and weaving rope, an exaggerated mimicry of the valley is created, a cage-like structure where the visitor is meant to enter, slow down and engage the interiority of the space.

AW Architects is a collaborative, multidisciplinary practice committed to design and construction innovation. For more than 20 years, AW has been producing acclaimed, innovative projects across a broad spectrum of building types. Their work is guided by the belief that meaningful innovation occurs when conventions are critically tested against the deeper cultural aspirations of a project. AW's diverse portfolio includes commissions for private and public institutions, nationally and overseas. In each project, the synthesis of place, program, and community is viewed as an opportunity to enhance the rituals of everyday life, foster a sense of well-being, and to inspire the imagination.

FB: AnmahianWintonArchitects | IG: @aw_architects | T: @AnmanhianWinton |  Aw-arch.com