1 - 9 September 2016
It's time for design in Amman
Our passion for art, design and culture has brought us together to create a new and exciting initiative – Amman Design Week.
Design plays an essential role in everyday life. It gives form to ideas, solves problems and enhances the wellbeing of communities, empowering them to imagine and build a better future. It is design that shapes unique and functional cities and environments from which we gain inspiration, transcendence and joy. Designers today use creative and technical skills to develop new ways of being in the world. By enriching daily experiences and creating meaningful connections with people, designers give communities a voice to lead and inspire change.
Today's local designers have been driven towards innovation within visible local constraints in manufacturing and resources. Whether through a surge in up-cycling the material of our past, or in celebration of selfempowered making with the use of the digital tools of the future, these designers have experimented with the use of low-tech technologies and the manipulation of locally available material. Within the prevailing restrictions lies the essence of their inspired conceptions, born out of the dialogue between traditional craftsmanship and contemporary practice. Their creative process is defined by the local environment, as is their creation of a unique design language; at once universal in its application, and equally rooted in its own vernacular.
Amman is a city that lies at the crossroads of civilizations, and has been a sought-after point of convergence for people from all walks of life. Embedded in its landscape is a diversity of people and ideas that have allowed it to flourish into a dynamic center for hospitality. It is amid the uniqueness of this opportunity and the centrality of this place that Amman Design Week came to be; a pioneering platform that can harness creativity, revive the conversation about design, and instill a spirit of collaboration and exchange.
For our inaugural year, we have woven together a program designed for the ambitious dreamers, avid learners, and proactive makers in Jordan. Our program gets its breadth from a global community of designers who have come together to participate in a multidisciplinary exchange of ideas, and gets its depth from a tightly-knit engagement in research and learning. In everything we do, we are passionate about conscious design; working with communities to create meaningful experiences.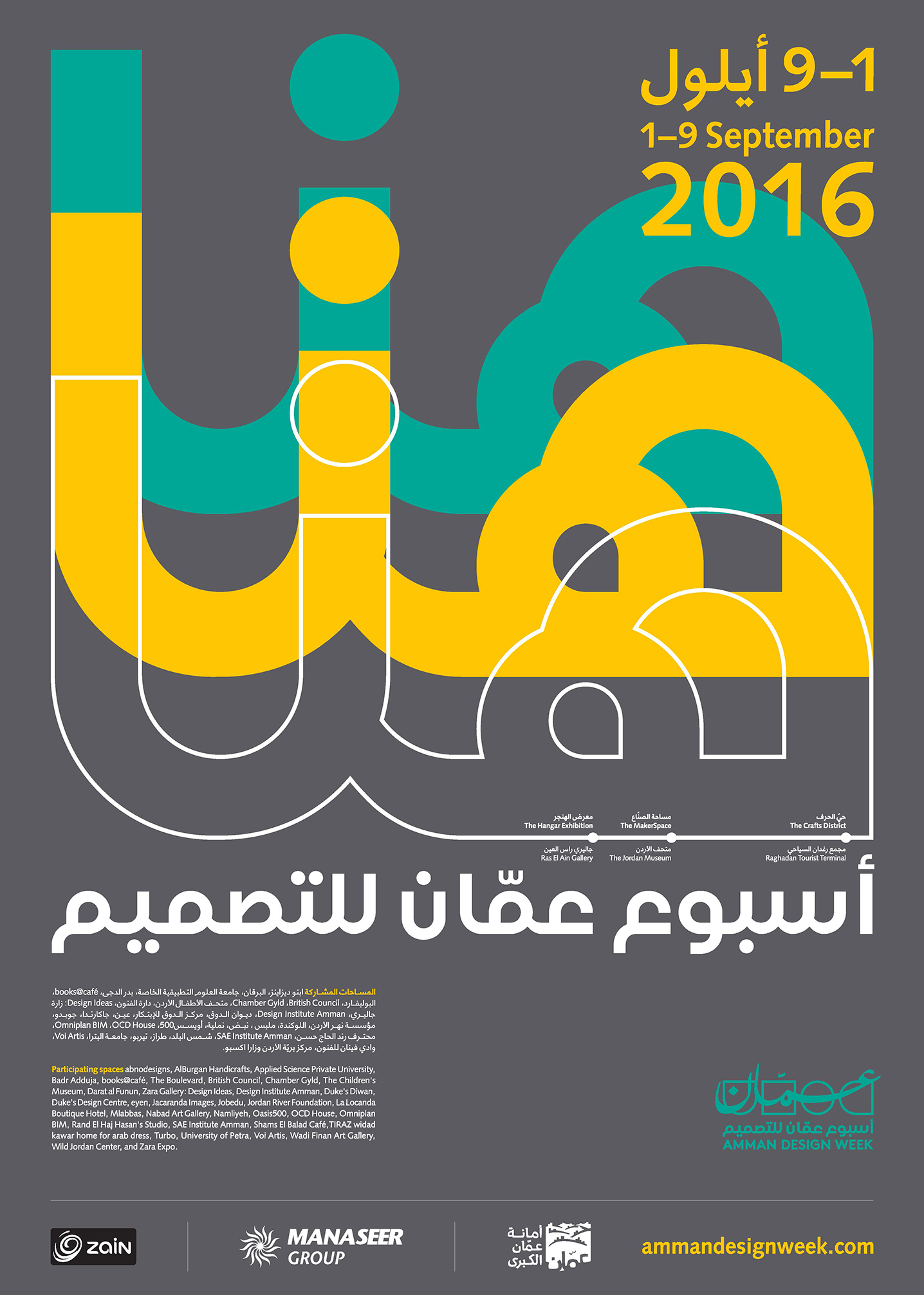 2016 Catalogue       Browse Full Program
2016 Team: Abeer Seikaly and Rana Beiruti – Co-Directors, Ghalia Jabr – Marketing & Sponsorship Manager, Salwa Qattan – PR & Communications Manager, Haya Bustami – Events Operations Manager, Walid Jankhut – Finance & Project Manager, Hareth Tabbalat – Project Manager, Omar Al-Zo'bi – Brand Advisor, Yousef Abedrabbo – Brand Advisor, Dana Halasa – Urban Designer