Amman Design Week's curated food program explores the art of preservation, taking visitors on a journey through the history and heritage of food preservation methods.
The practice of preserving harvested and prepared food dates centuries back, when people understood it as a necessity to survive in complex environments, and invented new ways to "cheat the seasons" by treating food in a way that will slow down spoilage and extend its shelf-life. The Middle East flourished with these practices, and pioneered many of the food preservation methods that we practice every day. Most of these traditions are still being practiced by women in towns and villages across Jordan, and have become an income-generating trade handed down generation after generation.
This year at Amman Design Week, 'Mouneh' features people who work in food production and preservation. Each entity provides tastings and samplings in addition to a selection of their products for sale, while also providing a more in-depth look at the preservation methods and the processes that are still embedded in our region's history and tradition. A mud-based oven and saj station oven allows visitors to pick and choose from the variety of products and make their own fresh meal from the curated menu.
Featured Preservation Methods:
Salting
Pickling
Sugaring
Jams
Drying / Sun Drying
Fermenting
Roasting
---
About the Participants
Ayman's Tea House has been collecting, preserving and making its own blends of tea, coffee and herbal drinks which are brewed over hot sand, for over 20 years.
Bayoudha Village is a close-knit community that built its own social development systems by maintaining the heritage of natural agriculture and domestic gardening, producing healthy and socially responsible products and initiatives.
Bin Izhiman has been preserving the region's coffee heritage since 1893. Moving from a traveling car to a shop in Jordan in 1967, Bin Izhiman has since become a destination for nuts, grains, spices, chocolate, tea, thyme and Bakhoor (incense).
Khair Balady is a Jordanian initiative that aims to support, empower and develop local communities throughout the Kingdom through the promotion and marketing of locally produced items.
Ne'meh Project aims to empower and employ women in the Jordan Valley region to earn a sustainable income to support their families and communities.
This project falls under the umbrella of the UNDP "Women Economic Empowerment" project, implemented by The Princess Taghrid Institute for Development and Training in collaboration with Aghadeer Farms and supported by the Finnish Government.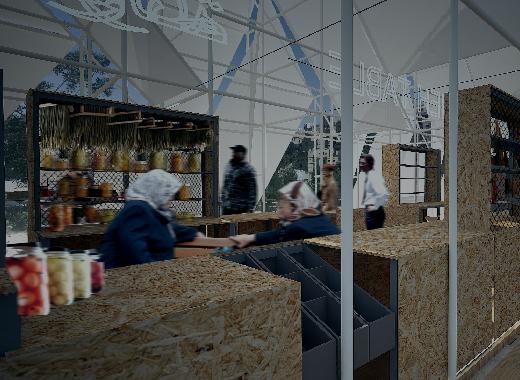 Curated by Shermine Sawalha